British tech giant in Khashoggi dilemma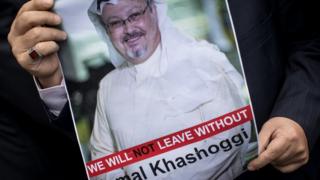 In 2016 the company widely seen as the jewel in the crown of the UK technology sector was sold.
Japan's Softbank paid a whopping £24bn for the Cambridge-based smartphone chip designer ARM Holdings, part of an epic spending spree which has seen it invest in a whole range global tech firms.
Theresa May hailed the sale as a vote of confidence in Britain, Softbank promised to increase investment in Cambridge, and ARM executives seemed confident that they would still be in charge, just with more money to spend.
One man, co-founder Hermann Hauser was not happy about ARM's loss of independence. He warned: "The future of ARM could have been determined by the UK management team. Now it will be determined in Japan."
Desert Davos
Since then Softbank has offloaded a quarter of ARM to its Saudi-backed Vision Fund. In July, Bloomberg reported that Yasir Othman Al-Rumayyan, managing director of Saudi Arabia's Public Investment Fund had joined the board of ARM Holdings.
In other words, the future of the the chipmaker is now being determined in Riyadh as well as Tokyo. And now that has landed the company with an ethical dilemma following the disappearance of Jamal Khashoggi, presumed murdered inside the Saudi consulate in Istanbul.
Next week ARM's chief executive Simon Segars is due to be a speaker at a grand investment conference in Saudi Arabia which has been dubbed Davos in the Desert, one of a number of executives from Softbank-owned companies due to be there. A number of other attendees from across the technology and financial world have pulled out of the event.
The UK's International Trade Secretary Liam Fox has just announced that "the time is not right" for him to attend the Future Investment Initiative in Riyadh.
On Monday afternoon, I asked ARM's PR team, with whom I've had plenty of amiable dealings in the past, whether Mr Segars still planned to attend.
I have been asking ever since, without receiving any clear reply. To be fair, ARM's whole leadership team is currently in California for a company conference where senior figures from Softbank have been among the speakers.
I imagine that Mr Segars has been closeted in meetings with his board and his Softbank bosses, agonising over whether to fly to Riyadh next week. The betting must be that he will not go.
But what this whole affair shows is that ownership does matter. The ethical as well as the commercial direction of a great British technology business is now in the hands of overseas owners who may not share its values.