Row over Troubles probe adds to pressures on May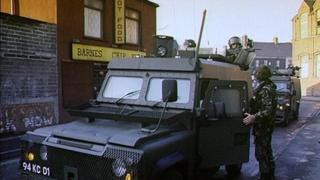 This could hardly be a more vulnerable time for the prime minister, when the support - or lack of it - from one or two MPs could make the difference.
Well today more than a 100 Tory MPs are making a direct and urgent demand to her - and on an issue that could hardly be more sensitive.
For many months there have been tensions in Whitehall over efforts to resolve crimes that may have been committed during the Northern Ireland Troubles.
As we reported back in May there is a clash in the cabinet over how to stop former military servicemen and women being dragged through the courts unfairly, while still trying to move the power-sharing process on.
Back in May government sources warned the problem had "catastrophe" written all over it.
And in recent days MPs who are also veterans have made their angry concerns quite plain.
Now a letter signed by more than a hundred of them, and members of the House of Lords is on its way to Downing Street, upping the ante by accusing Theresa May of risking her manifesto promise to veterans if she doesn't change her plans.
No question the Ministry of Defence, Northern Ireland Office and the attorney general are hunting for a way out.
Cabinet sources have told me one proposal is to require the attorney general to give his consent in prosecutions of veterans.
But there are nerves in government about increasing political involvement in the legal process, and interfering in devolved legal matters in Northern Ireland.
And of course such a precedent could have big consequences for other conflicts too.
One Whitehall source suggested whatever solution is settled on for Northern Ireland must apply across the board.
But the MPs and veterans are turning up the pressure rather than turning away from the fight.
If the current proposals made it to the House of Commons, the government would not have the votes.
Regular readers here hardly need reminding how precarious the prime minister's position is.
There is no obvious solution to such a sensitive problem.
With Stormont suspended, the politics of Northern Ireland are tricky enough.
But with so much pressure from Brexit, Theresa May can ill afford a tough battle on another front.