US markets pick up amid global sell-off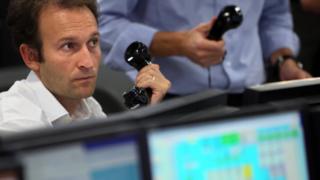 US stock markets have begun to recover from a global sell-off, regaining most of their losses in the final hour of trading.
The three major indexes closed between 0.4% and 0.6% lower, having earlier been down over 2% with the S&P 500 and the Nasdaq both at six-month lows.
The recovery comes after sharp falls in European and Asian markets, with London's FTSE 100 on track for its worst monthly performance in a decade.
Asian stocks also fell overnight.
Analysts said it was hard to pinpoint the global falls on one particular factor.